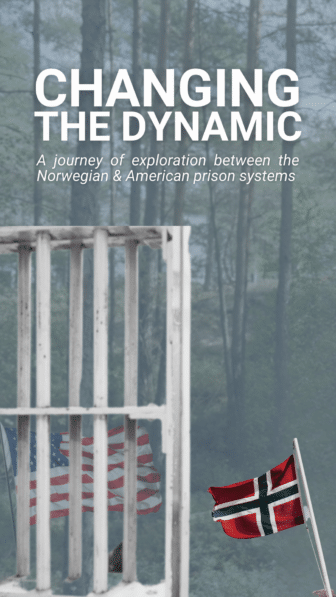 In the summer of 2022, One Voice United, a national organization committed to enhancing the voices of the corrections workforce, led a group of 25 corrections professionals on a week-long journey from the United States to Norway. 
The purpose of this trip, which was captured in a short film entitled: Changing the Dynamic: A journey of exploration between the Norwegian and American prison systems, was to bring union leaders, staff and members from many of the most influential local, national and independent unions in the United States (a group most often neglected in the reform conversation) to reimagine the concept of incarceration in the U.S. and determine what, if any, Norwegian concepts or ideas could be used or implemented back home. 
With participants from across the country, this diverse group of individuals sought to open their minds to new ideas, ask questions and examine differences between a Norwegian prison system, often cited for excellence, and a U.S. system characterized by high recidivism rates, poor staff retention and alarming rates of PTSD.
In the U.S. the "Norway Model" has long been studied, leading hundreds of administrators to travel abroad and return with hopes of replicating Norwegian success. However, despite good intentions, major differences in resources, culture, scope, size, staff training, labor-management relations, staffing ratios and conditions of confinement have not been holistically addressed. 
While some pilot programs have shown progress, over a decade of studying alternate philosophies has left the U.S. system in a continued state of failure. This begs the question, what are we missing? Certainly, the cultures are different, however crime happens everywhere, and there must be critical components of the "Norway Model" that make the Norwegian system work.
This was the challenge posed to 25 frontline corrections professionals by One Voice United: Let's go to Norway, see things for ourselves, speak with administrators, Union leaders, staff and those incarcerated and figure out what makes their system work and how we might apply some of those lessons in the U.S. Just as important, how does the Norwegian system value the input of staff and how are their experiences and expertise used to collaboratively and effectively influence change
Over the course of our trip, we unearthed three key differences between the two systems that helped answer these questions but realized they are rarely talked about or mentioned by those intent on bringing the "Norway Model" back to the US.
First, is the trust the Norwegian system places in their staff, their inclusion in the process, and the partnerships formed with the unions representing them. This critical component changes the dynamic between unions and administrators, shifting it from an "us against them" mentality to one of mutual respect and understanding. In fact, the concept of cooperation and collaboration with unions is so important that it is enshrined in their constitution.
This is in contrast to the United States where union rights are being continually challenged and opposed and staff are not included in discussions of change until the implementation stage.
This is not to say that Norwegian labor-management relations are not without challenges, but unlike the U.S where unions are often viewed as roadblocks, the Norwegian system recognizes both parties as equal and important factors.
The Norwegian system's success also hinges on two other critical components: dedication to staff training and staffing ratios.
In Norway, new cadets undergo two years of combined academy and on-the-job training before they are certified to be a correctional officer, and are given an hour of shift overlap to communicate with incoming and outgoing officers about those in their care.
Such practices are unheard of in the U.S. where many training academies are just a few short weeks and most officers must manage a staffing ratio of 1 Officer to 70 or more prisoners, making rehabilitation efforts virtually impossible. In Norway, the system is designed for a 1:1.1 staff to inmate ratio which allows staff to primarily focus on preparing inmates for re-entry.
Surveying the corrections landscape in the United States, no federal, state or local system embodies the three key tenets of the Norway system; labor-management cooperation, a two-year college level training academy, and a 1:1.1 staffing ratio.
Absent a commitment to these three pillars, implementation of a "Norway Model" might lead to some positive practices or experiments on a small scale but the systemic change so many are advocating for won't come unless those crucial and systemic elements are put into place.
Finally, there may be one piece of the "Norway Model" that goes beyond the reach of corrections professionals, the Norwegian culture. Much of Norway's success is a result of societal expectations and a belief that rehabilitation is possible.
It wasn't always that way. Thirty years ago, Norway was mired in the same morass as we are today. It took bold leadership to turn that system around, but it all started by adopting a simple principle called "normalcy."
The principle of "normalcy" assumes that the more "normal" the experience of incarceration, the more likely rehabilitation can be successful. Norwegians know that those incarcerated will eventually be their neighbors, so they asked the simple question, who do we want our neighbors to be? 
In the U.S. we also want those returning home to be rehabilitated, law-abiding citizens but, to date, society has not been willing to commit the resources to make permanent or substantive change a reality. 
Since our trip, little has changed in the U.S. corrections system, however, several OVU participants returned with a renewed sense of purpose and have initiated new ideas and programs based on what they witnessed in Norway.
Most recently, one of our participating groups collaborated on a statewide survey of correctional staff to assess job satisfaction, and another requested and was granted involvement in the hiring process of new officers.
Additionally, participants were able to gain firsthand knowledge and a deeper understanding of the "Norway Model", which has allowed them to enter meaningful discussions about possible changes based on Norwegian principles.
As an organization, One Voice United would like to thank the men and women who participated in this intensive week of exploration and discovery and extend our heartfelt appreciation to our Norwegian hosts for their openness and willingness to answer virtually any question.
It is our hope that this film, which includes interviews, insights, and discussions, can be shared and used to ignite momentum, foster collaboration and bring about change in the lives of those living and working in our nation's correctional system.
The lessons learned and the friendships forged with our Norwegian counterparts will remain with us forever. Let us continue the journey toward reimagining incarceration, drawing inspiration from Norway's success, trusting our collective influence to bring about positive change and working diligently to transform our current system into one that truly rehabilitates and reintegrates individuals back into society.